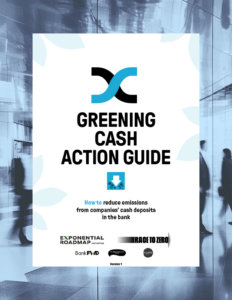 Emissions generated by how banks manage the cash holdings of their corporate clients can significantly add to a company's total greenhouse gas emissions.
Until recently, the environmental impact of a company's financial supply chain—most notably, their banking choices—has been a blind spot in corporate carbon accounting, sustainability planning, and net-zero strategies.
Introducing the "Greening Cash Action Guide"
In collaboration with TOPO, the Exponential Roadmap Initiative, and the Fair Finance Guide, BankFWD is a co-author on the new "Greening Cash Action Guide".
"The Greening Cash Action Guide" provides actionable recommendations to help companies measure and reduce the greenhouse gas emissions generated by how banks manage and use their corporate clients' cash deposits.
The guide outlines the following seven essential steps that companies should take to address the carbon emissions linked to their banking: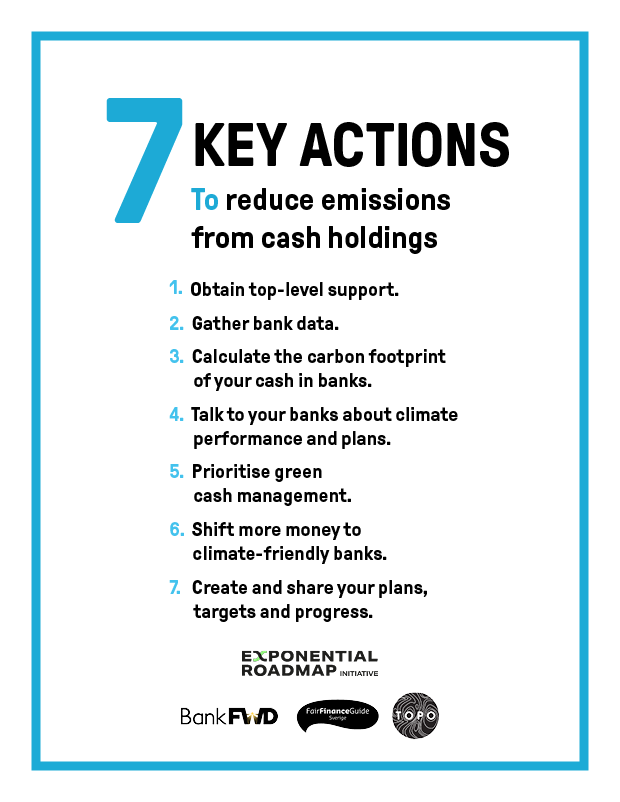 By taking these seven actions companies can start reducing the emissions from their own financial supply chains and accelerate the broader decarbonization of the financial sector.

Applying the insights of the Carbon Bankroll Report
In May 2022, BankFWD co-published the ground-breaking "Carbon Bankroll" report in partnership with the Climate Safe Lending Network and TOPO. The report found that for some of the world's largest companies, their cash holdings in banks generate more emissions than their direct (scope 1 and 2) and other supply chain (scope 3) emissions combined. 
The report published a first-ever methodology for measuring the financed emissions of companies. Now, the Greening Cash Action Guide takes the first steps towards developing a solution set that companies can use to not only measure but the manage and reduce the emissions generated by their financial supply chains.